Automated Cell Processing
Automated Cell Processing
Automated Cell Processing
The goal of cell processing is to isolate and extract the maximum amount of valuable cells without contamination or damage. Whether we're processing an infant's cord blood or an adult's whole blood, preserving the highest quality and quantity of cells ensures they will be ready for future clinical use without any risk of complication.
Cell Processing Method
Cell processing is such an important part of cord blood and immune cell banking, yet not many customers truly understand how the process works. There are two major methods:
Manual Processing – This is generally the most common cell processing method used in the majority of cell banks. Many cell banks advertise a unique and proprietary processing method in which trained lab technicians process cells by hand.
Automated Cell Processing – Cord blood or whole blood is automatically processed in a highly sophisticated, FDA approved, and functionally closed device such as the AXP® or the MCASS™ platform utilized by HealthBanks.
See the chart below, comparing the different cell processing methods to get a better understanding of the differences.
Pros and Cons of Manual Cell Processing vs Automated Cell Processing
Manual Cell Processing

Automated Cell Processing

Advantages

Less Expensive.

Consistent process

No risk of contamination

cGMP (Current Good Manufacturing Practice) and cGTP (Current Good Tissue Practice) Compliant

Disadvantages

Error prone

Relies to heavily on the lab technician skills, which could result in inconsistent results.

More Expensive as the cell bank needs to purchase a highly sophisticated and FDA approved device.
Also review this compare cell banks to see who is using automated cell processing vs manual cell processing
HealthBanks' AXP® Automated Cell Processing Platform for Cord Blood
HealthBanks' innovative AXP® II System defines the highest processing standard for isolating and retrieving stem cells from umbilical cord blood.
The AXP® II System:
Is a fully-automated, fully-closed, and sterile system that volume reduces cord blood to prevent human error and contamination that can occur in manual processing systems.

Possesses a self-powered and advanced microprocessor and contains flow control optical sensors that help achieve the most precise cell separation and highest cell recovery- an important step prior to cell storage.

Delivers high yields, consistently producing the highest MNC recoveries in the industry.¹ Published studies show that the AXP™ allows HealthBanks to achieve a 97% mononuclear cell (MNC) recovery rate compared to other processing systems.
Source: ᴵNew York Blood Center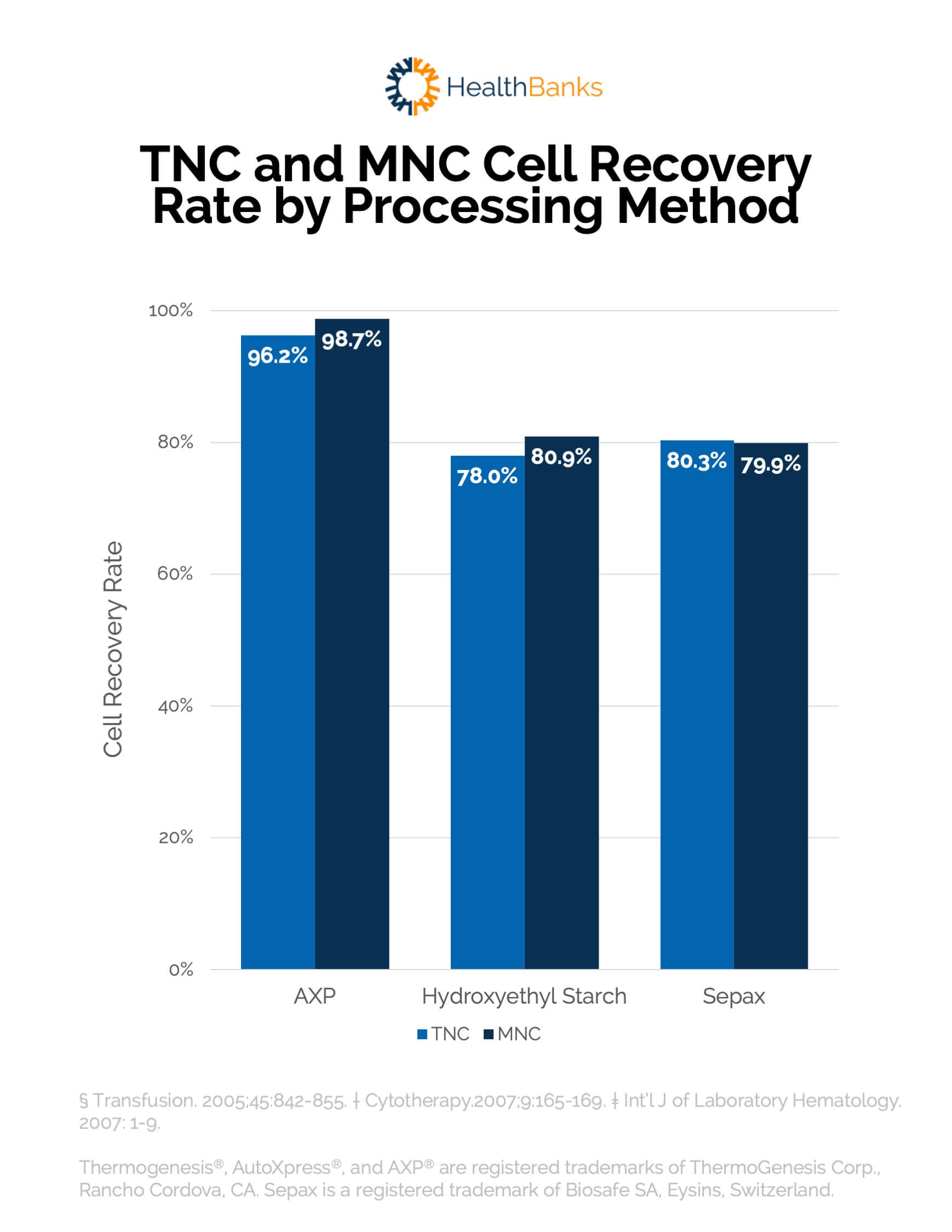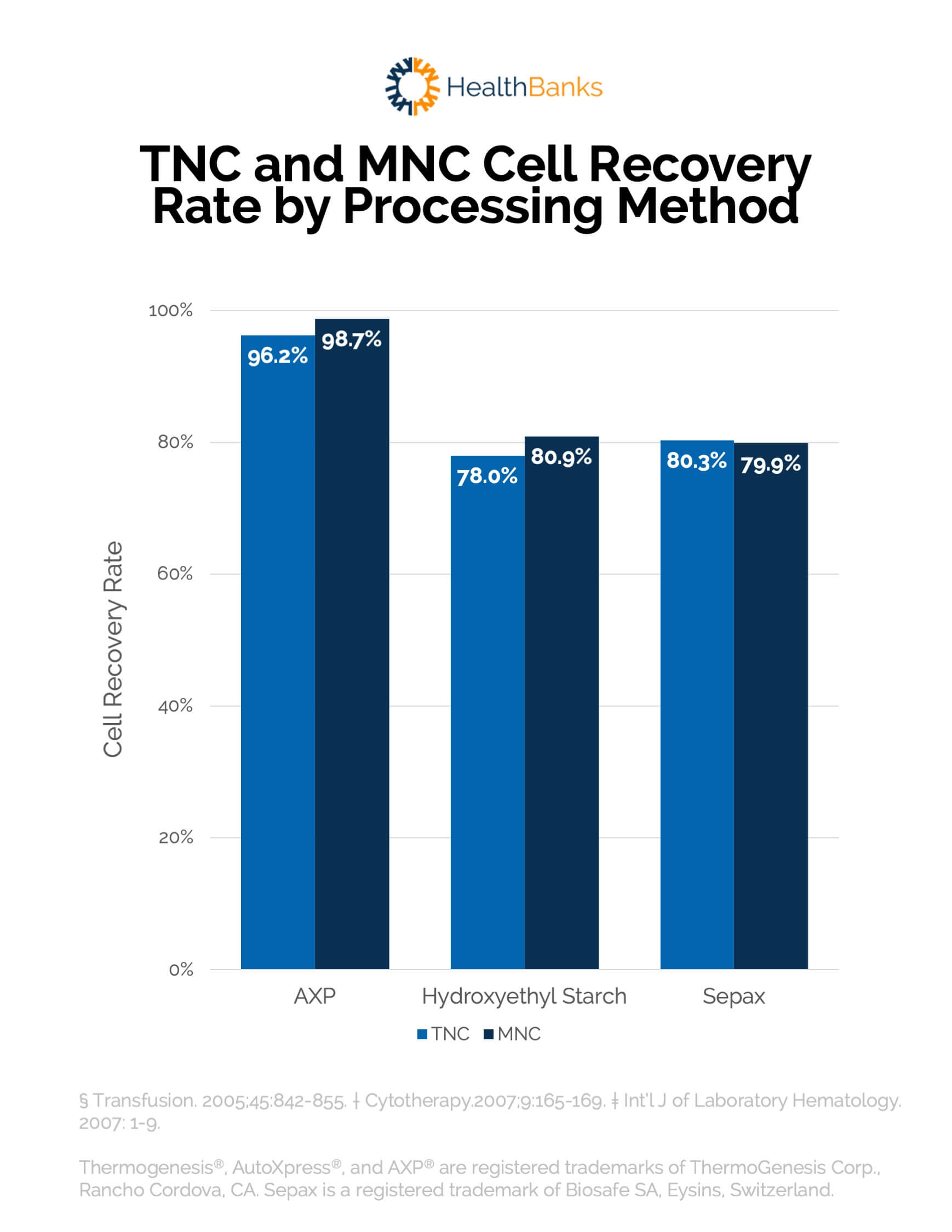 HealthBanks MCASS™ Automated Cell Processing Platform for Immune Cell Banking
HealthBanks' MCASS™ platform provides a stream-lined solution for cell processing, selection, washing, and cryopreservation for immune cells. It allows simultaneous isolation of different cell components from blood within a closed system, ensuring safe and quality assurance for the future. This system is not available for use at any other US-based cell bank. Without utilizing proprietary and automated technology, immune cells can only be extracted using a Ficoll manual method, leading to a higher risk of contamination and lower cell quality.
Comparison of MCASS™ vs Ficoll Manual Processing