Smart Robotics Cell Storage
When weighing the options between storing treasure in a highly advanced technological vault or a poorly hidden ditch, it is clear which one you would pick. If people have something that they consider valuable, they want to store it in the safest place possible. Based on this logic, it would only make sense to make a significant investment in preserving your cells to protect the future. How can we preserve our cells in the safest and most secure manner? The answer is clear: with highly capable cell storage technology.
Cell Storage Technologies
Cell storage technology is the most overlooked factor in making an informed decision when choosing cell banking, yet it is also one of the most critical components that ensures the clinical readiness, viability and safety of your preserved cells. There are two major technologies to consider:
MVE Dewar Tank – This is the most commonly used cell storage technology at many private cell banks. This tank provides a very convenient and economical way to store cellular products.
Smart Robotic Controlled Cell Storage Tank – HealthBanks uses the BioArchive®- a unique and advanced robotic controlled storage system to preserve your cells. No other US private cell bank uses this technology due to its high cost. The BioArchive® is the Tesla of the cell storage technology industry as opposed to the Volkswagen that other private cell bank companies use. Major US public cell banks such as NY Blood Center, MD Anderson, Cleveland Clinics and Duke University of Medicine all use this technology due to stricter FDA requirements on public cell banks. HealthBanks uses this advanced technology to provide the most premium service offerings to our customers.
See this cell banks comparison guide to see the differences between the MVE Dewar Tank vs. Smart Robotic Controlled Cell Storage Tank.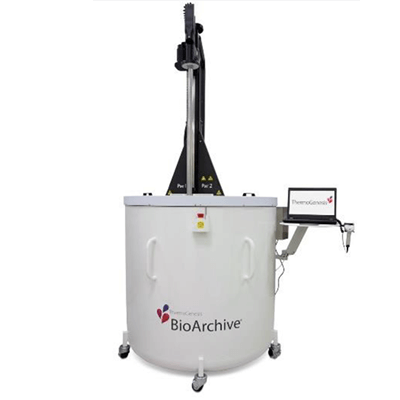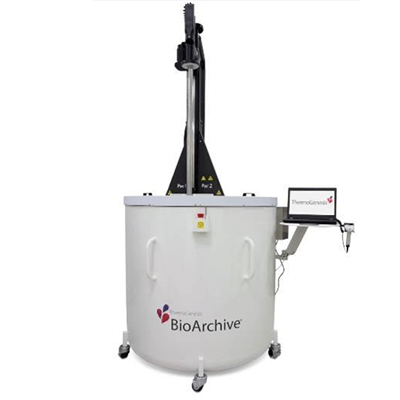 Pros and Cons of MVE Dewar Tank vs BioArchive
MVE Dewar
BioArchive®
Advantages
Less Expensive.

Robotics insertion and retrieval of cells, no risk to exposure and contamination
Highest cell viabilities
Temperature control and computerized data management
cGMP (Current Good Manufacturing Practice) and cGTP (Current Good Tissue Practice) Compliant

Disadvantages

Risk to exposure and contamination
Exposes stem cell units to Transient Warming Events (TWE), which reduces the available cell counts
Every time the tank is opened for new customer cell storage or existing customer blood retrieval, existing customer cells in the tank are at risk due to manual operation by lab technician

Expensive. Need to invest in highly sophisticated and FDA approved device.
HealthBanks' BioArchive®
HealthBanks utilizes the BioArchive® cryopreservation, tracking and retrieval system designed specifically for stem cells. Using proven, computer-controlled technology provides the ultimate in performance protection for your baby's stem cells, and your family's stem cell needs. HealthBanks, along with the world's leading public banks, choose to invest in this state-of-the-art technology because it offers distinct advantages over traditional tanks used for cryopreservation and long-term storage.
Consistent Temperature Control: Robotic storage and retrieval system provides optimal, closed system handling of stem cells, eliminating the unnecessary exposure of stem cells to transient warming events (TWE), which occur frequently with samples stored in traditional tanks.
Precise Sample Freezing: Three-dimensional, 25ml, dual compartment molded (DCM) freezing bag and Teflon overwrap bag for the most secure, accurate, and uniform freezing rates for each sample.
Secure Handling: Stainless steel canisters firmly house the over-wrapped DCM freezing bags, enabling precise robotic insertion and retrieval of each individual sample from 100% liquid nitrogen vs. traditional tanks, where each sample is repeatedly exposed to room temperature each time a sample is added or removed from vapor nitrogen, potentially damaging the stem cells.¹
Optimized Cell Viability: Over 94% post-thaw stem cell viability, when used in conjunction with the AXP™ AutoXpress™ Platform.²
System Integrity: Built-in thermal tracking, data management features, and automated safeguards provide ongoing confidence.
Accurate Record Keeping: Sample Management System (SMS) software provides bar code sample tracking, sample history, inventory control, and quality control monitoring.
Compliance Assistance: The BioArchive® is designed to capture essential data for quality assurance and compliance with the current good manufacturing practices (cGMP) and current good tissue practices (cGTP).³
Sources: ¹Study by P. Rubenstein, MD, C. Stevens, MD (NYBC, 2007), ²Data provided by New York Blood Center, ³Thermogenesis